Cricket
World Cup: Why Rohit Sharma doesn't forget to torment Australia! | Cricket News_INSIGHT
'Easy-going' captain once went for a tour game against
Australia
without his kit bag, but now boasts a stellar record when it comes to India's rivals in final
AHMEDABAD: Rohit Sharma's first battle against a star-studded Australia featuring the late Shane Warne, Glenn McGrath and Adam Gilchrist would have taken place when he was just 17 in October 2004 at a ground where he would go on to play blazing knocks, the Brabourne Stadium in Mumbai.
Former India skipper and former chief selector Dilip Vengsarkar, who was chief selector of Mumbai back then, wanted to fast-track the talented youngster's development after seeing him bat in an under-19 game. That is why he instructed coach and former India stumper Chandrakant Pandit to pick him in the XI for Australia's tour game against Ranji champions Mumbai. All things went to plan, and Rohit was named in the 14. But, on matchday, Rohit arrived at the venue without carrying his kit bag. His simple reason was: "Sir, I thought I would not get to play in the XI. Hence did not carry it."
Pandit was livid, but more disappointed that the youngster had missed the opportunity to display his talent against a generational team.
Knowing Pandit's insistence on non-negotiables in a team set-up, he would have been tempted to give Rohit the Ramakant Achrekar treatment. But he held back only after Vengsarkar asked him to go easy.
That 17-year-old is today India's captain and will lead the team in the World Cup final against who else, but Australia, at the Narendra Modi Stadium in Ahmedabad, on Sunday.
Rohit's absent-mindedness has made him forget passports, ipads and phones in hotel rooms and buses. The Bambaiyya twang with colloquial abuse to players and teammates when they show over-eagerness or reluctance to go for DRS or drop a catch or misfield, often trigger meme fests.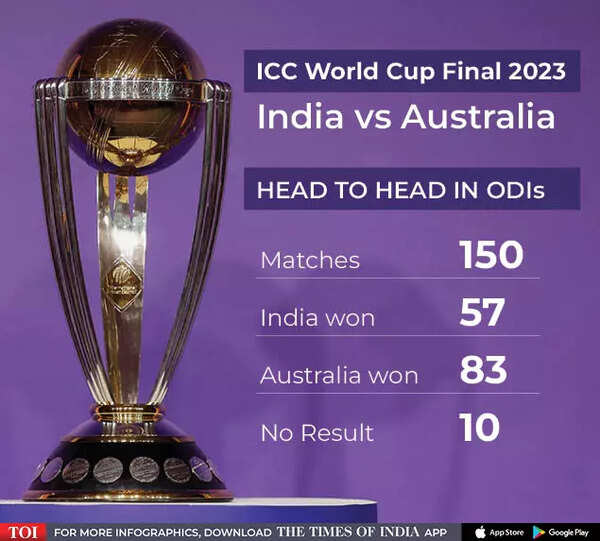 That is where the mirth ends though. While preparing for games, he is meticulous.
His childhood coach Dinesh Lad, who has trained Rohit since the age of 10, says, "Don't be fooled by how he looks like on the ground. He may look casual, but he is smart and focused. Look at how he has led in this World Cup. Every bowling change has worked. He has kept innovative fields for different situations, defended when he needed to defend and attacked when he needed wickets."
Lad, who was critical of his all-ornothing approach in IPL, where he felt he was short-selling his talent, now feels Rohit's attacking approach has made things easier for the other players. "Virat is batting beautifully, but Rohit's quick start has allowed him to build and then accelerate. Same with Shreyas and KL. Both are getting time to get set and then explode because there is no immediate pressure to hit. As a leader, he has led by example," says Lad and adds self-confidence as Rohit's greatest strength.
Rohit will be a key scalp for Australia on Sunday. He has eight ODI hundreds and nine fifties against them. He is also aware of the legacy of the India-Australia rivalry¸ which picked up in intensity and quality at the turn of the century during the iconic 2000-2001 Test series.
ICC World Cup: Australia beat South Africa by 3 wickets in second semifinal to set up title clash with India
The first ton Rohit scored against them in Jaipur, a 141 not out, helped India erase the memories of a number that has haunted a generation — 359, Australia's score in the 2003 World Cup final for the loss of just two wickets at Johannesburg.
That hundred not only aided him to end a three-year century drought, but also enabled India to hunt down 359 in 43.3 overs with Virat Kohli scoring an unbeaten 52-ball hundred. It got Rohit a permanent address as white-ball opener.
Breaking: India enter World Cup 2023 final, beat New Zealand by 70 runs
Both dazzled together while batting vs Australia for the first time as youngsters in red-ball cricket. Batting for Board President's XI, led by Yuvraj Singh, in Hyderabad, in 2008, Rohit and Virat scored 105 each.
A lot has happened since. Rohit and Kohli both battled initial struggles and inconsistency. Both matured under MS Dhoni and Kohli took over as captain from Dhoni and under him, Rohit as vice-captain, produced stunning batting feats, notably in the 2019 World Cup with five tons. Virat has returned the favour in India's 2023 home campaign while Rohit's been in charge with a record 711 runs. How about one more tango together in what could be their last World Cup match? Form is not an issue. One presumes missing kit bags won't be either.
Watch Breaking: India enter World Cup 2023 final, beat New Zealand by 70 runs