Cricket
Why Pat Cummins mentioned Pakistan when asked about Ahmedabad track | Cricket News_INSIGHT
NEW DELHI: Examining the pitch before a match is standard practice, but capturing images of the track for potential discussions in the dressing room and strategic planning is somewhat uncommon.
This morning, Australian captain Pat Cummins arrived to inspect the 22-yard strip designated for the World Cup title clash between India and Australia on Sunday.It seems that the pitch is occupying the Australians' thoughts ahead of the crucial match.
When queried about his evaluation of the Ahmedabad pitch, which had already been utilised for the high-profile India-Pakistan encounter, Cummins offered a measured response.
"Just had a look," Cummins replied when asked about the track.
So what do you make of it? He was probed further.
"I'm not a great pitch reader, but it looked pretty firm. They've only just watered it, so yeah, give it another 24 hours and have a look, but it looks like a pretty good wicket."
"I think Pakistan played someone there," he said without taking India's name.
During the Australian team's afternoon training session, Cummins arrived at the Narendra Modi Stadium just after half-past 9.
He proceeded to the square and began taking pictures, presumably to assess and compare how the appearance of the track might evolve from Saturday morning to the afternoon and subsequently on the match day afternoon.
In fact, before the Australian training session started, Steve Smith, Travis Head, head coach Andrew McDonald also wanted to have a close look. Head, a good off-spinner in conducive conditions tried to gauge the hardness of the surface.
Eden Gardens strip had a few deliveries turning at right angles but Cummins believe that it won't be like that in Motera.
A black soil track, rolled heavily to ensure slowness, is on offer. Batting will be difficult under the lights if opposition has two quality spinners operating in the middle overs.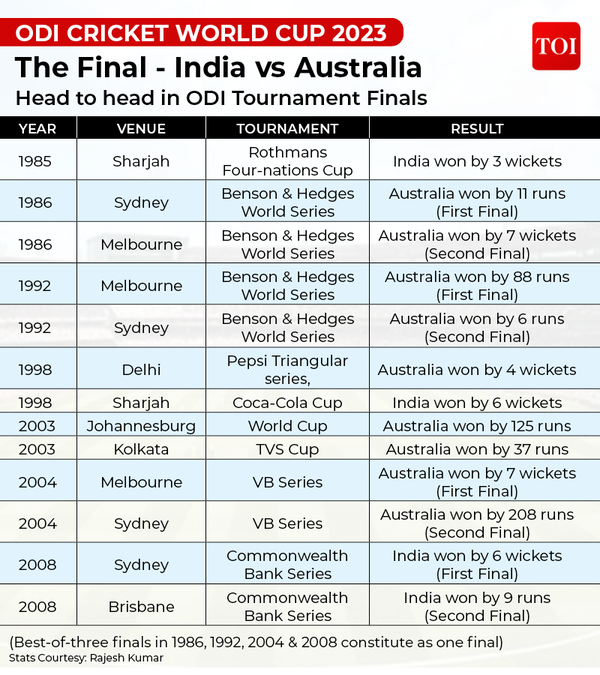 "It's been a bit more high scoring here throughout the tournament. It's obviously the same for both teams. No doubt playing on your own wicket in your own country has some advantages, similar to wickets that you've been playing your whole life," he said.
Unlike Wankhede where New Zealand virtually lost the game after losing the toss, it won't be the case at Motera.
"I think, of all the venues, perhaps this venue – the toss isn't as important as, say, a Mumbai Wankhede Stadium or other venues. So, we'll be ready in terms of anything they'll throw at us. Yeah, we'll wait and see, but we'll make sure we have some plans."
Dew will be big factor
ICC's pitch consultant Andy Atkinson did pay a visit and was around for an hour as BCCI's curators monitored the last day touch up before it is handed over to match referee Andy Pycroft.
Mohammed Shami's native village to get mini-stadium soon
The GCA ground-staff were seen using anti-dew spray in the afternoon as the last 20-25 overs of the match are always affected by late evening dew.
"I think the biggest difference is the dew. This city and venue seems to have more dew than a lot of the other places we play. So perhaps, yeah, that's something to think about ahead of tomorrow."
If Australia bat second, keeping dew factor in mind, Cummins indicated that batting order could be tweaked a bit.
"You've got to weigh up batting during the day when it might be a bit easier than under lights, but knowing that late in the second innings it could also slide on.
"Again, it (dew) might only be the last quarter of the game but once that settles in and the ball is skidding on, it's quite different to say the first 20 overs where it might be swinging. So, something to consider," he further stated.
(With PTI Inputs)