Celebrity
Sanjay Ghadvi, director of Dhoom franchise, dies at 57 | Bollywood News_INSIGHT
Sanjay Ghadvi, who was known of directing two hit films of the Yash Raj Films' Dhoom franchise, breathed his last on Sunday. He was 57.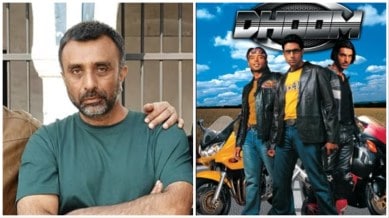 Director of Dhoom Sanjay Ghadvi dies at 57. (Pic: Amit Sadh/Instagram)
Listen to this article
Your browser does not support the audio element.

Filmmaker Sanjay Ghadvi, renowned for directing Dhoom and its sequel Dhoom 2, passed away at the age of 57. His last directorial venture was Operation Parindey, an action film featuring Amit Sadh in the lead role.
Most Read
1
Fans request Amitabh Bachchan not to watch India vs Australia ICC World Cup 2023 final, actor says 'I am thinking…'
2
World Cup: Back in Shubman Gill's sprawling village home near Indo-Pak border, his grandparents recall tales of little 'Shub' before big final
Former CEO of Ajay Devgn Films, Meena Iyer mourned his demise on social media. She wrote on X, "Shocking: Sanjay Gadhvi's passing. I met him last week at PVR watching Killers of The Flower Moon. We exchanged pleasantries and I thought all day of #Dhoom. Rest in peace 🙏." Actor Richa Chaddha reacted to her post, "What the what 😦".
You have exhausted your
monthly limit of free stories.
Read more stories for free
with an Express account.
Continue reading this and other premium stories with an Express subscription. Use promo code DIWALI30 to get 30% off.
This premium article is free for now.
Register to read more free stories and access offers from partners.
Continue reading this and other premium stories with an Express subscription. Use promo code DIWALI30 to get 30% off.
This content is exclusive for our subscribers.
Subscribe now to get unlimited access to The Indian Express exclusive and premium stories.
Sanjay embarked on his Bollywood journey with the 2001 film Tere Liye, which didn't resonate well with audiences and largely went unnoticed. However, his breakthrough came in 2002 with Mere Yaar Ki Shaadi Hai, a Yash Raj Films production starring Uday Chopra, Jim Shergill, and Tulip Joshi. Following this success, he helmed another YRF production — Dhoom (2004), which not only became a box office sensation but also kickstarted a lucrative film franchise.
His directorial prowess continued with Dhoom 2, starring Aishwarya Rai, Hrithik Roshan, Abhishek Bachchan, and Uday Chopra. The film was a massive success at the box office and became the top-grossing Hindi film of 2006.
Sanjay's subsequent projects included Kidnap (2008) and Ajab Gazabb Love (2012), which did not replicate the same success at the box office as his previous films and were declared box office failures. He made his digital debut with Amit Sadh's Operation Parindey, which premiered on Zee 5.
Click for more updates and latest Bollywood news along with Entertainment updates. Also get latest news and top headlines from India and around the world at The Indian Express.
© IE Online Media Services Pvt Ltd
First published on: 19-11-2023 at 11:43 IST