Video Game
Mobile Game Market Review July 2023 – insightdaily.in
July was an exceptional month for mobile gaming, with some of the biggest titles on the market launching major updates that introduced new gameplay mechanics, monetization options, and collaborations with popular IPs. However, many players slept through the excitement, as they were too busy clocking up hours in the gamified wellness app, Pokémon Sleep.
Of course, Pokémon isn't the only major franchise with a growing presence in mobile. Activision capitalized on the momentum of Diablo IV's successful launch on PC and console by adding a new update to its mobile game Diablo Immortal, which released the franchise's first new character class in almost a decade. Players turned up in droves to try out the Blood Knight, causing a 400% increase in daily downloads on iOS. 
Monopoly GO! is still dominating the charts and continues to build engagement through its first cooperative event, Baking Partners, where players had to help each other make a cake to win various in-game rewards.
There were also a significant number of IP collaborations in the most popular mobile titles during July, mainly with films and television shows. Some of our favorite crossovers included Match Masters and the Teenage Mutant Ninja Turtles, Stumble Guys and Barbie, PUBG and Dragon Ball Z, and even Survivor!.io and Spongebob Squarepants. 
You can find more information about all these updates, as well as many others from across the US, China, and Japanese markets, in our July Mobile Game Market review.
US Market Overview
Following the success of its one-year anniversary update last month, a major update for Diablo Immortal added the franchise's first new character class in almost ten years, the Blood Knight. This mid-range class specializes in polearms and combines long and ranged attacks into a hybrid combat style; it's also capable of "feeding" on the life of its enemies to regenerate health. 
The new class can be played by creating a new character or changing an existing one using the game's free 'class change' feature. Blizzard also released a special event designed to make the most of the new class, The Crimson Plane, featuring a limited-time roguelite PvE mode and a progressive reward track with an exclusive set of Blood Knight Armour. 
For now, the only way for Diablo fans to try out the Blood Knight is by playing Immortal, which resulted in a 400% spike in downloads on the day of the update. As the new class wasn't monetized, the game didn't experience a revenue spike similar to the month prior for its one-year anniversary.
Monopoly GO! added its first cooperative event, Baking Partners, which ran from 4–9 July and tasked players to partner up with each other and make a cake to unlock special rewards. The prizes include dice rolls, cash, stickers, and even a unique token representing the player on the board. While the event had no notable impact on downloads, daily revenue on iOS doubled around the start of the event, with the game continuing to build momentum after its conclusion as further updates are released.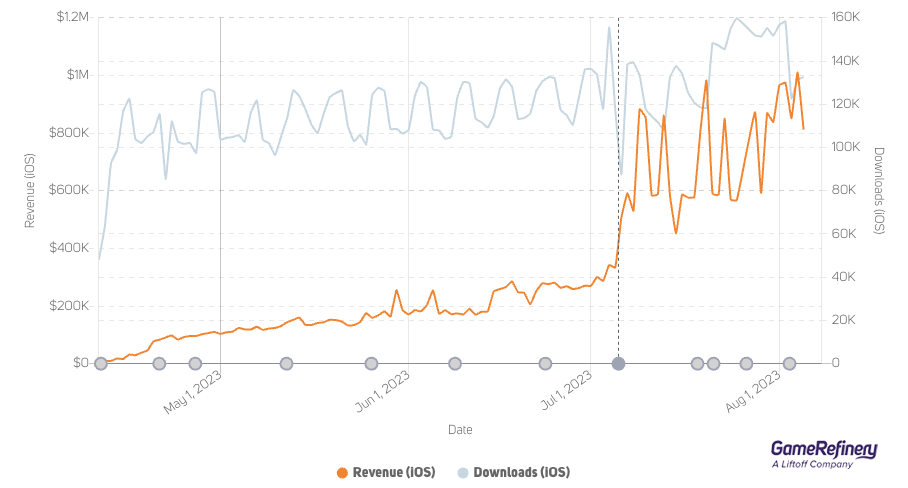 In the week-long event, players had to collect a unique currency called "purple cookies" from the Monopoly board, which were spent on rolling a wheel to collect progression points for the "cake-making process." Players and their partners unlocked special rewards once they collectively reached specific point milestones.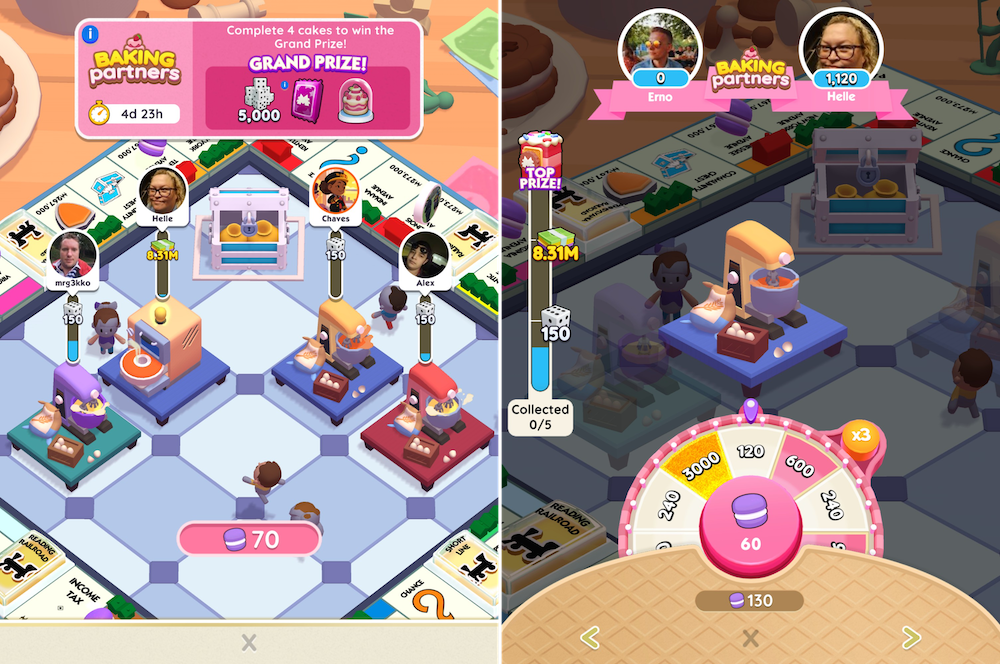 July was also a big month for collaboration events, with a significant focus on popular film and television franchises. First up is Match Masters, which collaborated with the Teenage Mutant Ninja Turtles to celebrate the release of the new film Mutant Madness. 
Players had to collect pizza slices from PvP modes to reach reward milestones in the Boss Battle Collection Event, allowing them to battle some of the franchise's most iconic villains in exchange for exclusive skins and stickers. Multiple TMNT-themed limited time IAP-offers were also available during the collaboration, including progression and customizable bundles, which helped daily revenue almost quadruple in the days following the update.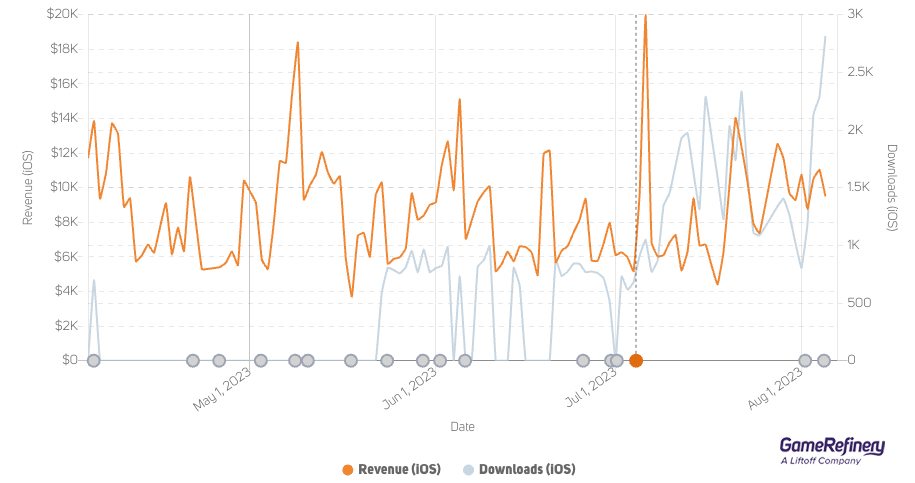 Meanwhile, the Fall Guys clone, Stumble Guys, collaborated with the doll-turned-blockbuster-movie, Barbie. The Barbie Malibu Mayhem event added a unique Barbie Dream Dash map that saw players rushing around to deliver Barbie's favorite items to various NPCs before they were eliminated. The Barbie Malibu Mayhem rewarded players with Barbie Tokens, which could be spent in an event shop to purchase exclusive Barbie-themed skins and an emote. 
Survivor!.io launched the Deepsea Survivor Event, which added Spongebob Squarepants and his neighbor Squidward as playable characters. ​To unlock Spongebob, players had to complete various sign-in tasks, while unlocking Squidward required taking part in daily battle stages. Players could also unlock Spongebob's snail, Gary, as a new pet via IAP offers.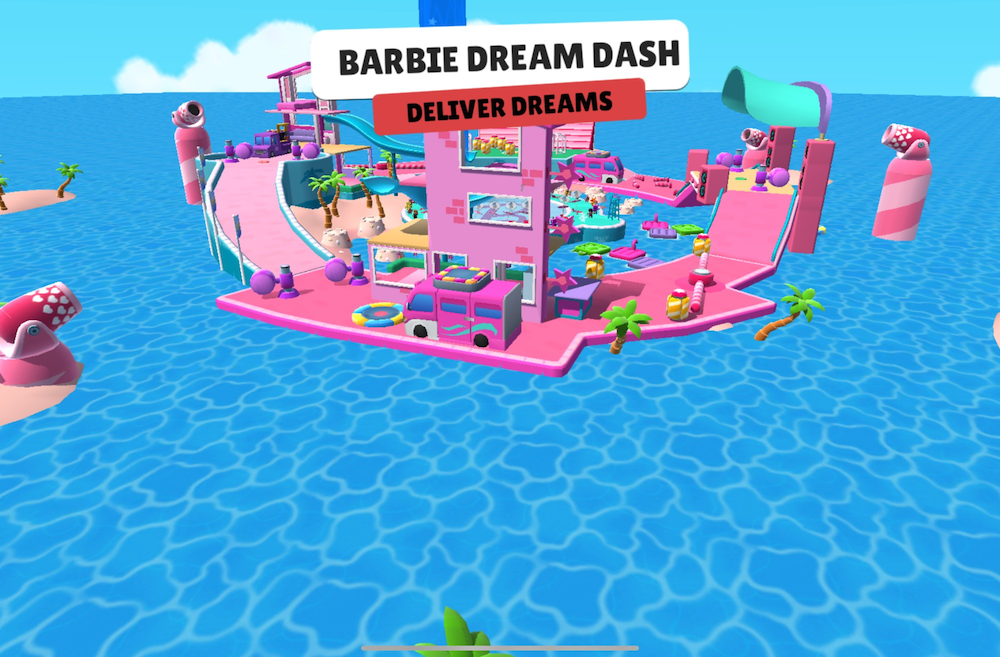 Finally, almost a year since it was first announced, PUBG Mobile released its long-awaited Dragon Ball Super collaboration, introducing two new modes, Dragon Ball character gachas, task events, and more.
The first new mode, Battle Royale: Dragon Ball Super, ditched almost all the traditional PUBG gameplay elements to transform the map into an anime-style battleground where players duke it out as their favorite Dragon Ball characters. The other mode, Dragon Ball Super, retains most of the core gameplay ideas but incorporates aspects of the anime, such as the ability to find Dragon Balls hidden across the map or fire an energy beam.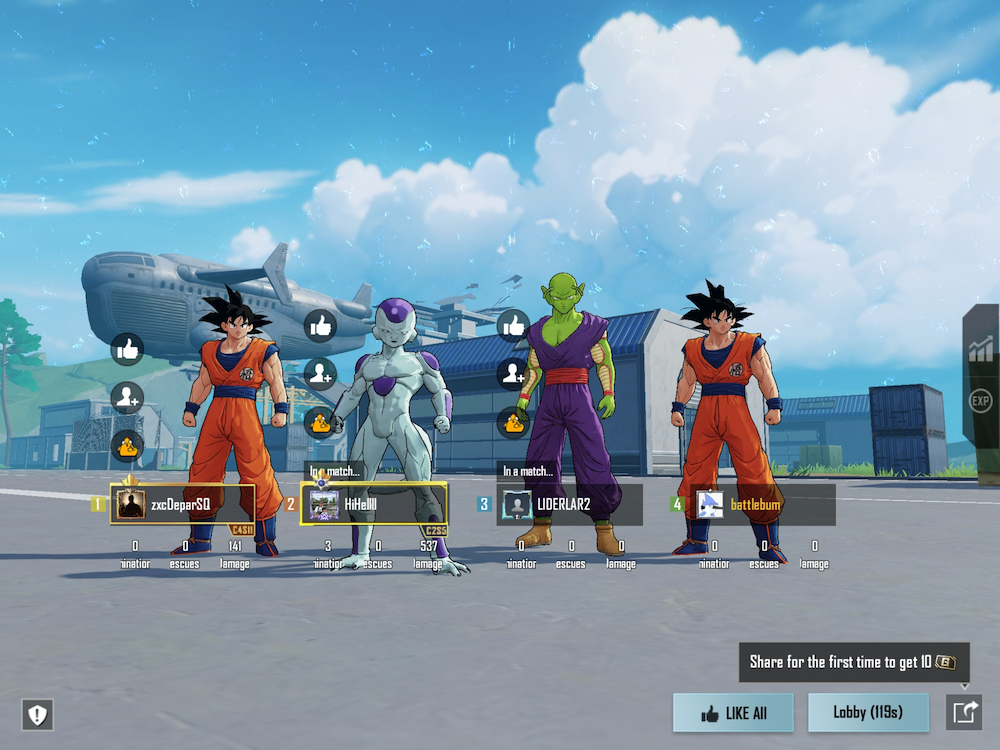 Other US market highlights include:
Moonton released a new tower defense RPG called Watcher of Realms, which managed to hit the top 50 grossing. 
Space Ape Games released an unusual match3 game themed around car restoration called Chrome Valley Customs, which has been scaling the past month towards the top grossing 100.  
Jam City's new puzzle RPG themed around DC Comics, DC Heroes & Villains, has struggled to break into top grossing 200, despite the popularity of characters such as Batman, Superman, and Harley Quinn.  
After an initial strong launch, the card-collecting RPG Harry Potter: Magic Awakened has fallen radically in performance after last month's US launch, despite performing relatively well in China. 
Tencent finally released its extraction shooter Arena Breakout across the globe. However, despite its high production values and popularity in China for some time, it has yet to find a strong audience in other markets. 
Japan Market Overview
Following the successful release of Pokémon Go and Pokémon Smile, the Pokémon Company continued to expand its mobile ecosystem in July with the long-awaited release of Pokémon Sleep. This unique title combines sleep tracking and Pokémon collecting into one gamified wellness app. The unusual amalgamation seems to have struck a chord with mobile users, with the title ranking #1 in downloads since its launch. 
However, Pokemon Sleep didn't achieve this all on its own. Pokémon Go also released a special themed event to celebrate the launch, Catching Some Zs, which featured an exclusive Snorlax wearing a nightcap for any player who linked a Pokémon GO Plus + (a new physical accessory used for both Pokémon Go and Pokémon Sleep) to the game. 
We'll be discussing Pokémon Sleep in more detail soon as part of our Mobile Games Playbook podcast, as well as providing a detailed analysis on our platform.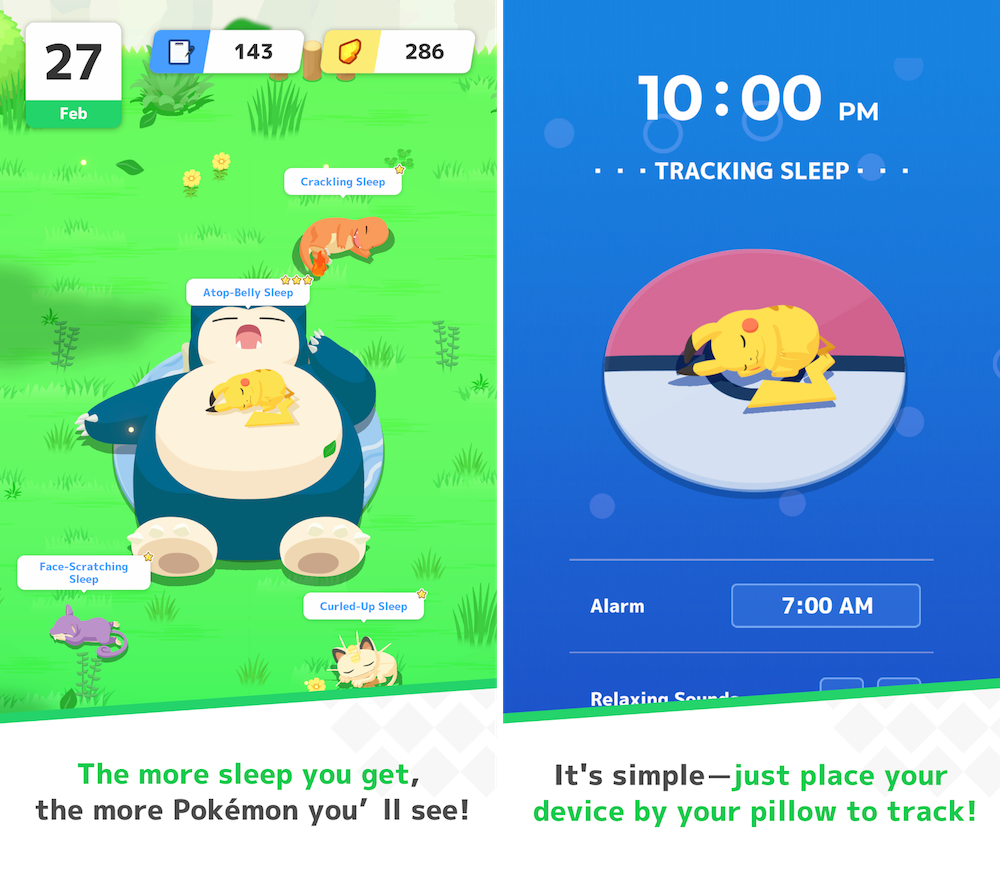 The Dragon Ball franchise also made waves in Japan following the release of a new Ultra-tier character, Super Saiyan God SS Vegito, in Dragon Ball Legends. The character was anticipated to be a worthy challenger to the current meta and expected to dominate PvP modes, meaning many players were desperate to unlock them as soon as the update landed.
Super Saiyan God SS Vegito could only be unlocked through a step-up gacha consisting of four 10-character pulls, out of which the fourth was a free pull. To pull all four, a player needed 3,000 Chrono Crystals (worth just over $60). The actual drop rate of Super Saiyan God SS Vegito was 0.350%, which is very low, and players also required duplicate pulls to upgrade the character further.
Daily revenue spiked by more than 2000% after the character's release.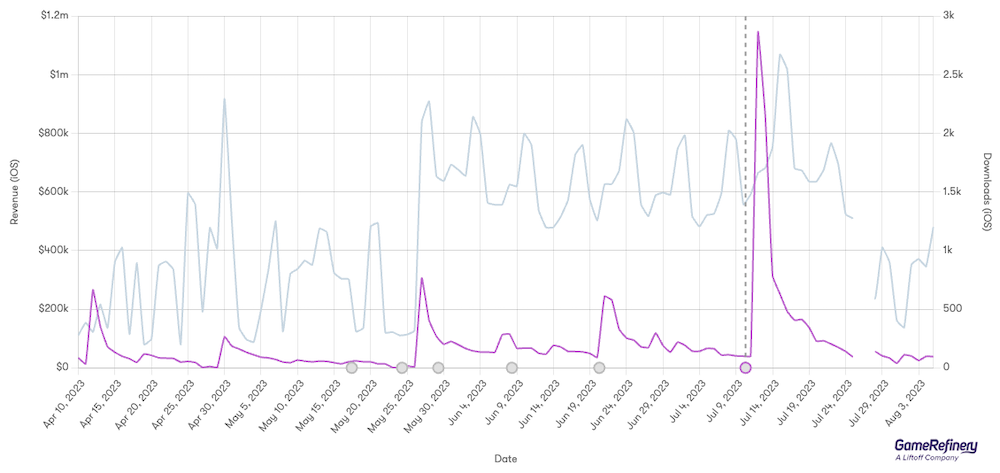 Other Japan market highlights include:
The realistic baseball game, MLB 9 Innings Rivals, has ranked #1 in downloads for several days and grossed between 20 and 50 for most of July. With baseball being a massively popular sport in Japan, it's unsurprising that this new game managed to find its audience quickly.
That Time I Reincarnated as a Slime launched its first collaboration event with the popular anime KonoSuba.
Ensemble Stars!! Music launched a summer event with its own take on the Treasure Hunt/Hidden Temple event type.
A new mecha RPG, Muv-Luv Dimensions, launched at #1 in the download charts and #18 grossing, but has since fallen down the ranks.
China market highlights include:
Justice Mobile (逆水寒) is the mobile version of NetEase's "flagship MMORPG" Justice Online, with high production values and a Chinese fantasy art style. It is currently ranking around top-grossing #3 and DL #2.
Crystal of Atlan (晶核) is an anime cel-shading-style action RPG with flashy graphics and classic sword-swinging gameplay. The game describes itself as having an "aetherpunk" theme; a mix of magic and technology. The game has been hovering in the top five top-grossing and top 15 downloads.
I'm Really Awesome At Martial Arts Competitions (我比武特牛) is a hybrid game with a hyper-casual beat-'em-up style core and Archero style meta that has made it to the top-grossing ranks. The game currently ranks in the top-grossing 70-80 and the top 15 in downloads.