How To
How to Send Free SMS___INSIGHT
Messaging apps like WhatsApp are really popular now because you don't have to pay to send text messages anymore. However, the problem with these apps is both the sender and the recipient have to install the app, which isn't always convenient. And of course, both users need to be connected to the Internet – if the person you're trying to message is in a location which doesn't have Internet access, then you can only reach them using SMS.
There are some ways in which you can send SMSes for free though. Just remember that there's no such thing as a free lunch. Each one of these "free" services has a catch. Before using any of these services, make sure you know that you may start getting advertisements in email and over SMS. If you are installing any free SMS apps, double-check the list of permissions to see if it can violate your privacy. All of these services may sell your contact details to marketing companies.
We also found a number of services online that claim to let you send and receive text messages online. We tried almost all of these but we weren't even able to send a message with most, far less receive, so we can't recommend any. However, the following services worked reliably.
Way2sms
We tried a few free SMS services and found Way2sms to be the most useful. Text messages sent through Way2sms were delivered quickly, although that isn't unique to this service. It works on mobile browsers, desktop browsers and has an Android app. A functioning mobile website makes it accessible across platforms.
The service bombards you with ads, and the promotional emails reached us before the verification mail did. Also, we would recommend against using the Way2sms Android app – it requires a huge list of permissions and this includes "modify or delete the contents of your USB storage", "test access to protected storage", "read sensitive log data" and "precise location (GPS and network-based)". The mobile site is good, and so you don't need to use the app at all.
This is how you can send SMS for free using this service:
Go to the Way2sms website and create an account. You'll be sent a password on your mobile phone and a verification email. You'll need both to verify your account and start sending free text messages.
Open the website and log in. Now click Send Free SMS. This will take you to a page where Way2sms asks you to add contacts. This isn't compulsory but the site makes it appear as if you can't send an SMS without saving contacts on its servers. Click the Send SMS link next to the home icon at the top.
Enter your friend's number, type your message and click Send SMS.
Another well known service is 160by2, which used to be a competitor until it was acquired by Way2sms. However, it still functions separately and bears mentioning because it has a Chrome extension so you can quickly send messages from your browser. Overall though, Way2sms is the better choice, because its mobile site is much more usable.
Hike
Hike messenger is a messaging app available on most platforms, but it has an interesting feature – it allows you to send messages via SMS as well as messages to other Hike users. On signing up you get a balance of 20 free SMS messages, and you get a further 50 if someone you've sent an referral signs up for Hike. Unlike the services mentioned above, where you can only send messages, Hike also lets you receive messages – your friends just need to reply to the free messages you sent, and you'll receive them within the app. You also "earn" more free SMSes by chatting using Hike messenger.
The app is available on iOS, Android, Windows Phone, BlackBerry, and Nokia S40 and S60. Here's how to use Hike to send free SMS.
(Also see: Hike Messenger review)
Install the app, and register your account. Now tap the new message button and enter the phone number of anyone who isn't on Hike and send them a message. This will automatically be sent as an SMS.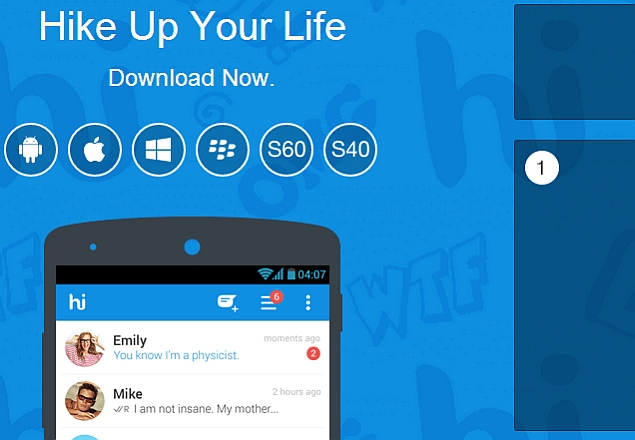 Otherwise you can go to your contacts, and tap on the name of a contact who does not have Hike installed (or is offline at the moment) to chat with them using your SMS balance.
Like we said earlier, there are countless apps and website that claim to let you send SMS for free, but these seemed the most reliable amongst the ones we tried. Feel free to share your favourite ways via the comments. As always, you'll find more useful articles in our How to section.