How To
How to install WhatsApp and other apps on Nokia X from 'unofficial' sources – insightdaily.in
It's well known now that Nokia's new not-quite-Android budget smartphone, the Nokia X, is fully capable of running a huge number of Android apps, even those that aren't available in Nokia's own store app. Fortunately, it's also pretty easy to find these apps and install them. We'll take you through a simple tutorial so you can take advantage of this too.
Due to competition with the Windows Phone platform and limitations of the AOSP (Android Open Source Project) fork that Nokia has created for the X family, the Google Play store is not available on the Nokia X. This means that a lot of popular apps, such as WhatsApp, aren't easily available to users.
If apps aren't available in Nokia's own store, users have the option of checking any of four other Android app stores: 1mobile market, SlideME market, Aptoide, and Yandex Store. These are available from the Nokia store homepage as well as search results pages. Once installed, you can use any of them just as easily as the native app store.
For example, you can open the 1mobile market, and either choose a category to browse through or search for a title directly. Downloads and installs happen as usual.
For apps that are still beyond reach, Nokia allows side-loading from third-party sources. Android apps can be downloaded in APK format, although security is definitely a concern since APK files can be manipulated and infected with malware just like PC software installation files.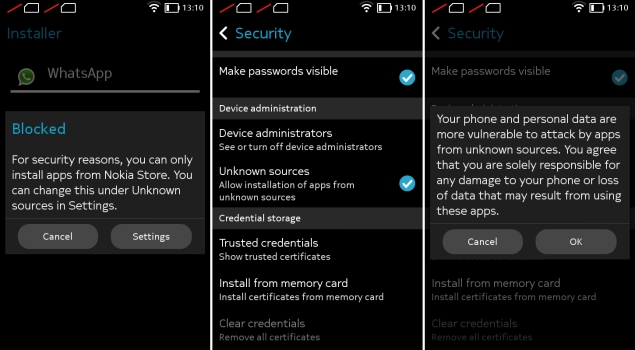 A small number of companies such as Whatsapp offer APK files directly from their own websites. Various download sites, such as www.download.com, also offer APK files for certain apps. You can load these files onto your Nokia X via a USB cable or simply download them through the browser.
You can tap the filename from the Fastlane screen if it's just been downloaded, or find it in the Downloads app. The first time you try installing an APK, you'll see an error message informing you that installing apps from third-party sources isn't allowed for security reasons, but that you can change this in the Settings.
When you tap the Unknown Sources checkbox in the Security sections to allow this, you'll see a second warning message. After this, you're free to install anything you like, accepting the risk. You can tap the APK filename again now, and installation will proceed without any trouble.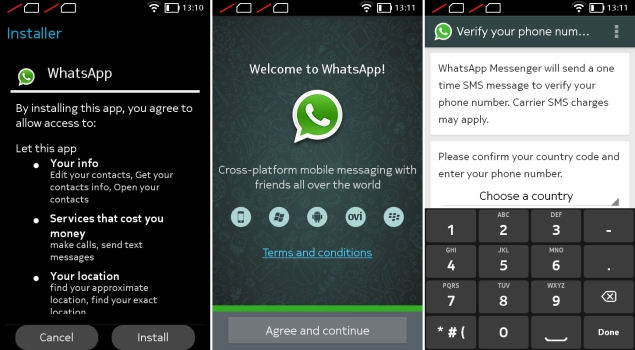 Some apps, especially those which require Google services, might not run or might have limited functionality. You won't be able to sign in to Google services to share game scores, and location-sensitive apps which rely on Google Maps also won't function.