Life Style
How rising air pollution accelerates health risks_INSIGHT
In the heart of the nation's capital, the arrival of winter heralds a grim season of hazardous air quality. The Delhi-NCR region, home to millions, becomes a cauldron of toxic air, thick with smog primarily caused by stubble burning. This annual crisis is exacerbated by the season's dense air, trapping pollutants at ground level, hindering their dispersal and creating conditions that are especially dangerous for individuals with cardiovascular and respiratory conditions.
The culprits of this environmental health hazard are particulate matters, particularly PM 2.5 — particles so fine they can enter the bloodstream through the lungs.Commenting on it, Dr. Niranjan Hiremath, a leading cardiovascular and aortic surgeon at Apollo Indraprastha, said, "The dense smog enveloping Delhi is not just an atmospheric phenomenon; it is a serious cardiovascular risk factor, especially for those with pre-existing heart conditions."
Those most at risk are individuals with chronic obstructive pulmonary disease (COPD), patients who have had heart surgeries, and those with stents or blockages. The danger is more acute for individuals with a familial predisposition to heart ailments, as the smog could precipitate or exacerbate their conditions. The interconnectedness of heart and lung functions means that the strain on the lungs due to poor air quality inevitably puts additional stress on the heart, leading to decreased oxygenation of the blood and increased cardiac workload.
The comparison of air pollution to second-hand smoking is particularly apt. For smokers, the impact of the smog is even more pronounced, effectively doubling the toxic intake and dramatically increasing their cardiac risk. Dr. Hiremath warned, "In our city, breathing during winter months can become a silent equivalent to smoking, doubling the harm to our heart and lungs."
Preventive measures are advised, albeit challenging to implement in a city besieged by pollution. Air purifiers have become essential in households, and minimizing exposure to outdoor pollution is recommended. These measures can mitigate the risks but are far from a cure-all solution. The respite provided by the end of winter is temporary, and without addressing the root causes of pollution, the cycle is doomed to repeat annually.
The pollution also has broader implications for public health infrastructure. Hospitals in Delhi see a surge in patients with respiratory and cardiac complaints during the winter months, straining resources and underscoring the need for more robust health policies and infrastructure to cope with the crisis.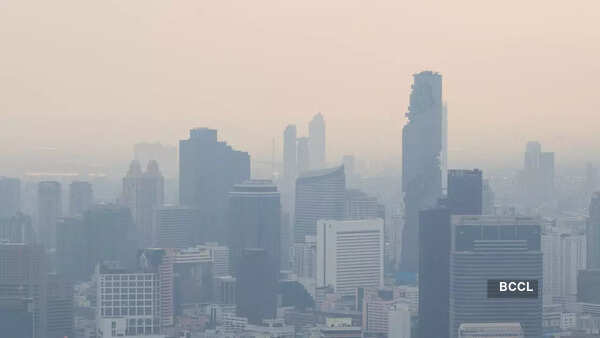 Image: Canva
"Delhi's air pollution is an invisible public health emergency," Dr. Hiremath stated. "It's a silent killer that is particularly lethal for our heart health. The smog of winter months is an annual reminder of this unrelenting challenge."
The government has taken several measures to tackle the pollution, including restrictions on vehicle usage and temporary halts on construction activity. However, the impact of these measures is often debated, with critics arguing for more stringent and long-term solutions.
How to keep both your brain and blood pressure in check
As the city breathes a sigh of relief with the advent of spring and the dissipation of the smog, the issue of air pollution cannot be relegated to the back burner. The impact on heart health remains a year-round concern that requires sustained attention and action. Awareness campaigns, stricter enforcement of environmental regulations, and investment in sustainable practices are critical in the battle for cleaner air.
The need for action is urgent, not just for the environment but for the very heartbeat of Delhi. The air pollution crisis is a stark reminder that the health of a city and its inhabitants is intrinsically linked to the air they breathe. As the city moves forward, it is imperative to find solutions that will clear the air permanently, ensuring a healthier future for all residents.
Written by Dr Niranjan Hiremath is a senior consultant cardiovascular, aortic surgeon and the surgical lead of the Apollo Hospital