Mobile
Families of overdose victims want to see more prosecution of drug dealers – NBC Boston_INSIGHT
Thousands of people overdose and die each year in Massachusetts, with more than 2,300 deaths last year alone. But in most of those cases, the person dealing the drugs is never held accountable, frustrating the families and loved ones left behind.
Many are calling for change, asking that overdose deaths be fully investigated and prosecuted when possible.  For the past four months the NBC10 Investigators have been looking at cases, speaking with prosecutors, lawyers and  families searching for justice for loved ones who have died.
Larry and Sharon Rotondi never thought they would see a gravestone with their daughter's name on it before their own.  
"It's horrible, I will never be the same. I don't have a daughter anymore, my granddaughter doesn't have a mother, my son doesn't have a sister," said Sharon Rotondi.
Their 37-year-old daughter Jaclyn Rotondi, who they called Jackie, died of a drug overdose in Reading last May. She was the mother of an 8-year-old and struggled with mental health and substance use disorder, but her family says Jackie had been sober and working full-time for the past few years. 
Sharon Rotondi says on May 5, 2023, her family asked Reading Police to do a wellness check at her apartment after not hearing from her for twenty-four hours.
"That afternoon she didn't show up for work, she's never done that, never so there were red flags and the next day was her daughter's communion."
According to radio calls and police reports obtained by the NBC10 Investigators, Jackie's apartment door was open and her personal belongings were inside. Reading Police pinged her cell phone, reached out to hospitals and other police departments and searched outside her building. Her family hung missing person posters throughout the complex and say they told police the last time they knew Jackie was in the garage of her building. But police didn't search the garage until three days later and found Jackie's body in a corner. 
"The whole weekend went by and my daughter was sitting in a cold garage," said Sharon Rotondi.
State Police detectives assigned to the Middlesex District Attorney's office were called to the scene, Jackie's cell phone was found but the case never moved forward to find out who sold her the drugs.
Jackie Rotundi is buried a few feet away from Jane Trullo's son, Rob Desrochers. Desrochers died of an overdose three weeks before Jackie.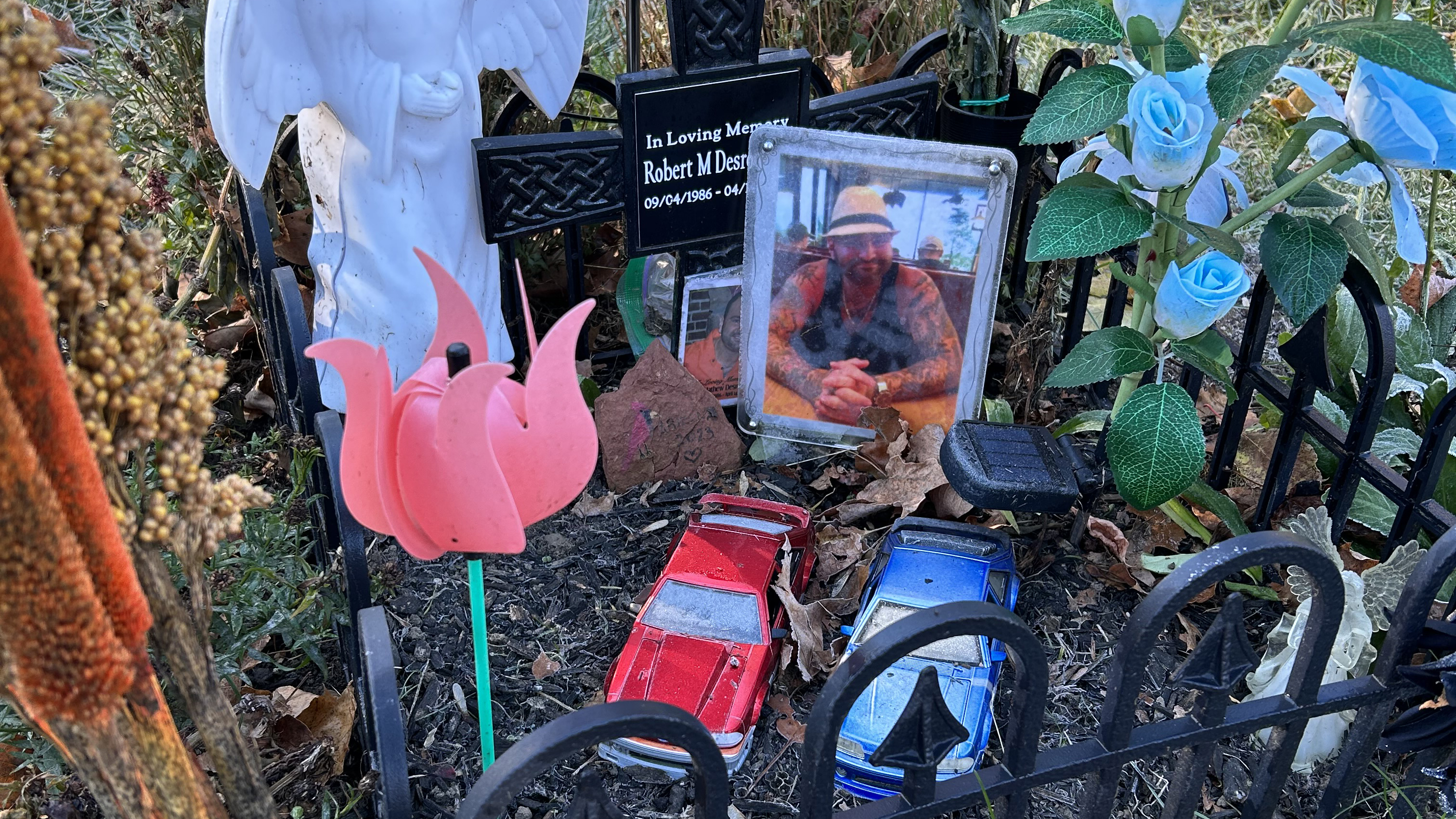 The two of them grew up together in Stoneham and went to high school together.
"We are completely devastated, you know he's my son and he has siblings who are all mourning him," said Trullo.
Desrochers struggled with drug use for years but had moved out of state to try to turn his life around. He came back to celebrate his son's sixth birthday and was staying with his wife at this house in Stoneham that is known to police for drug-related issues, including distribution.
Desrochers never made it to his son's birthday. He died on April 14 at Melrose-Wakefield Hospital. 
"I was told by the Stoneham police that there absolutely was not going to be an investigation. They do not investigate drug overdoses," Trullo said.
The Rotondi and Trullo families believe the drugs in the two deaths may be tied to the same convicted drug dealer and his associates. Death certificates show Jackie and Desrochers died from similar drugs laced with fentanyl.
Stoneham Police said they're familiar with the home where Desrochers overdosed and had offered people living there services in the past. The case was also referred to the Middlesex County District Attorney's Office but it didn't move forward.
"My concern is that there are tainted drugs out there and that nobody cares to find out. You know, she could have died from the same exact thing that my son died from and that doesn't seem to be a concern for anybody but families," said Trullo.
Middlesex is the largest county in the state and has had the most overdose deaths, 3,436, since 2012. But the DA's office has never tried to prosecute any cases charging a dealer with manslaughter or drug distribution related to an overdose death. 
In a statement, District Attorney Marian Ryan told us for families the need for answers can be unrelenting, "However, every overdose does not present the factual scenario which would support a prosecution for manslaughter."
The office has targeted traffickers and large-scale drug operations in the past few years.   
"I just hope things can change and somebody else doesn't have to go through this," Sharon Rotondi said.
The NBC10 Investigators surveyed district attorneys across the state and found most, eight of the eleven, have charged dealers with manslaughter or drug-related charges in connection with overdose deaths.  Spokespersons for district attorneys in Middlesex and Suffolk told us they have never prosecuted these types of charges. A spokesperson for the Berkshire County District Attorney told us they haven't but are willing to if a case arises.  
Families sharing a heartbreaking bond are now calling for change.
"My son was an adult and I believe everyone should take responsibility for their actions but why is his death any less important than someone getting stabbed?" said Trullo.
"Jackie was somebody's daughter, somebody's mother, somebody's sister and somebody's friend. She didn't deserve this. She was working and getting better and they didn't treat it right," Sharon Rotondi added.
A decision by the Massachusetts Supreme Judicial Court raised the bar on what's needed for evidence in these cases where manslaughter is charged. Prosecutors must prove the dealer not only sold the drugs but knew they could cause substantial harm or even death.