Life Style
Catch Alia Bhatt's 10-minute 'sunburnt glow' makeup routine |_INSIGHT
Celebrity beauty secrets videos are wildly popular and have been for a hot minute now. To know about the intricacies behind a look, or to get the deets on products used has even the best of us hooked, and with good reason. There is so much allure still surrounding the idea of the celebrity; we want to know what they eat, we want to know what makeup they use, we want to know what they wear.We want to be them and live this luxurious life that we can only be spectators to. Watching them hand out bits and pieces of their lives excites us andAlia Bhatt's recent spill on her 'sunburnt glow' look has had beauty enthusiasts talking.
In a video with Allure magazine that she did recently, Alia shared the details of how to achieve her everyday sun-kissed beauty in 10 minutes with the help of good solid makeup tips that she claimed to have learned from a long-time friend, and collaborator Punit Saini, a celebrity makeup artist who also did her makeup for two significant days in her life: the Met Gala look this year and the makeup look for Alia's wedding to Ranbir Kapoor. She shared that the duo had worked together for 8 years and called the makeup artist her "family".
Alia Bhatt said that she learned her makeup skills from celebrity makeup artist and long-time friend Punit Saini. Source: Allure/ Youtube.
Dubbing the makeup look "sunburnt glow" she explained that the inspiration behind the look was a flushed tan glow that one gets after being out in the sun for the whole day. In the video, she said, "You know that feeling that you feel after being in the sun all day where you're like, tired, but there's like, this glow on your face and you just like, are naturally flushed and you just look like, you know, a child of the earth? I wanna go for that look." While most of us would consider a full-beat face the epitome of celebrity glam, the tides have turned now, and the emphasis seems to be on enhancing your natural features instead of covering them up under layers of makeup. Clean girl beauty seems to have won this round again.
To start off, Alia says that she avoids foundations and instead opts for a skin tint which she combines with an illuminating and hydrating primer, humorously referring to herself as a mixologist. The key to achieving this look starts with a good, hydrating base, so the tint is perfect for the look. She says that she wants "the skin to kind of look like skin." as she loves to show her freckles off and does so with her hands saying "I'm not very comfortable using a brush when I'm applying my skin tint. I feel like I get a better coverage when I'm using my hands."
After prepping her skin, she moves in with a creamy, hydrating concealer to cover her dark spots and under-eye bags with a beauty blender. She follows this with a peach-coloured cream blush that she uniquely applies in a C shape – starting at the forehead and bringing it down in a curve over her temple and down to her cheekbones in a C-shaped curve. She also brings the blush over her nose and connects it the the other side of her face in the same C shape. She applies it further to her chin to completely embody the sunkissed look.
For contour, she goes in with a heavy hand to define her cheekbones. She eventually blends with a beauty blender and sets her makeup with a fine-grained translucent powder just underneath her eyes. She continues with peachy-pink shades for the eyes and a natural mascara for her lashes – the point is for the makeup to look as natural as possible so she avoids any heavy makeup at all costs. She then brushes out her eyebrows and fills them in with brow powder. Alia says that she lets her "brows grow out now." and that she hasn't "been shaping them too much. So it is denser on the top"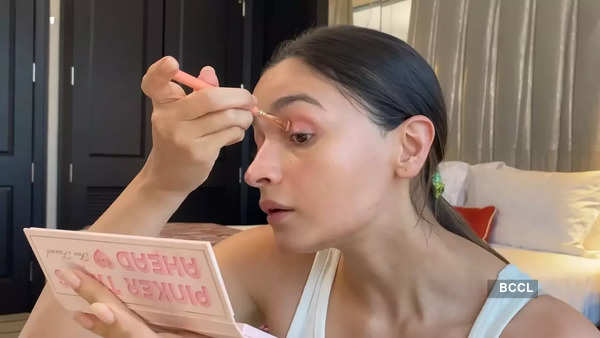 Alia opts for peachy pink shades as eye makeup to complete her 'sunburned glow' Source: Allure/ Youtube.
She finishes off the look with a brush of contouring powder over the hollows of her face and layering on liquid highlighter over the high points of her face. As for lip makeup, she opts for peachy nude lipstick that she tops off with a glossy lip balm for the ultimate shine. At the end of her routine Alia appears fresh-faced and radiant – ready for a night out on town.
Alia Bhatt finally reacts to fans calling Ranbir Kapoor 'toxic' because of his 'wipe it off' remark: 'He is genuinely opposite of that…'
So there you have Alia Bhatt's 10-minute 'sunburnt glow' makeup routine. Would you like to try it out for yourself too?